Qualities to Look for in the Best Vertical Climber Machine
Posted by MAXICLIMBER FITNESS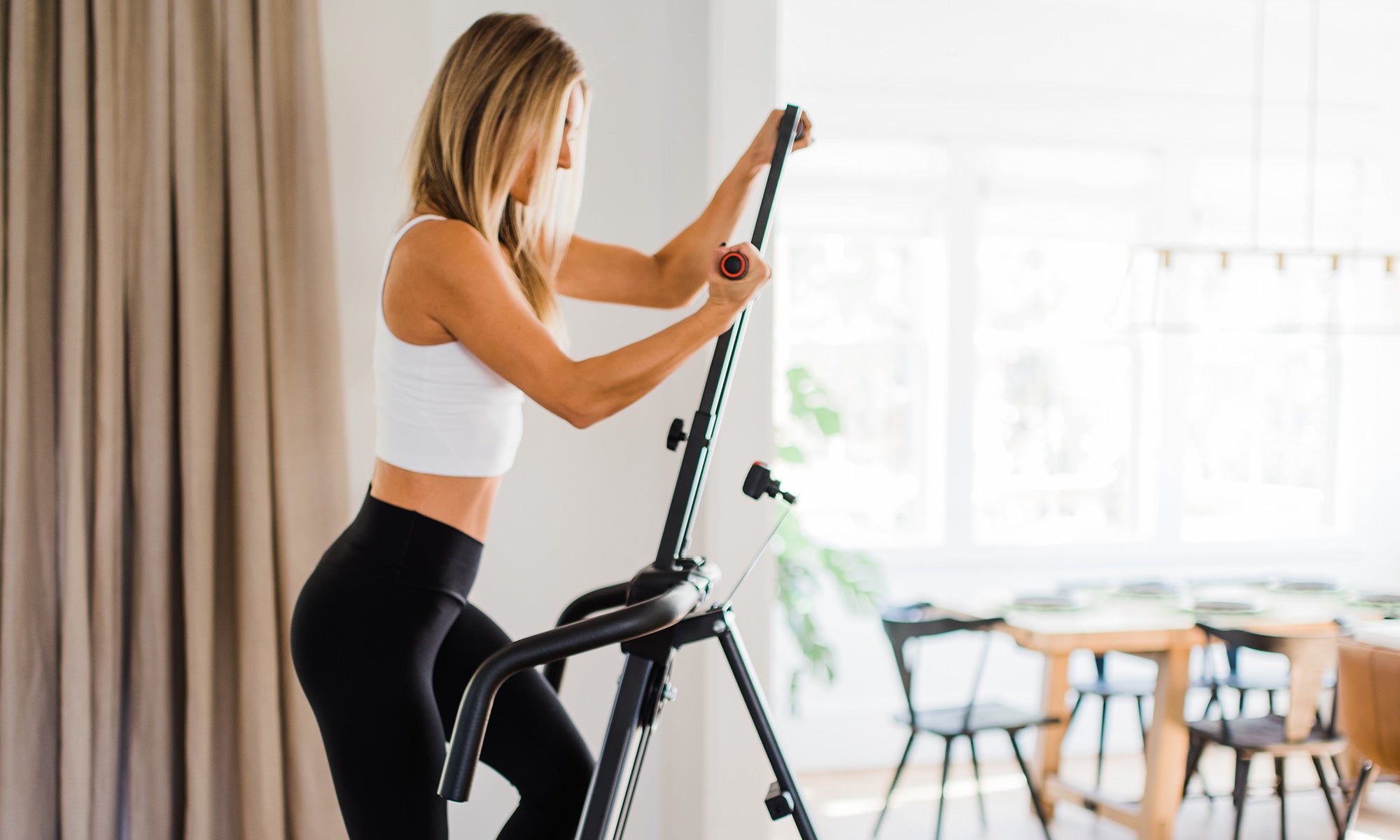 MaxiClimber: The Best Vertical Climber Machine
When you're researching options for a new addition to your home gym, you want only the best of the best! It's easy to spend hours and hours searching for exercise equipment online — whether it involves reading user reviews, checking up on the latest recommendations from fitness influencers or simply comparing specs across brand websites. When looking for the best vertical climber machine, you don't have to worry about spending a ton of time searching around.
MaxiClimber
is hands down the best vertical climber machine available today. Here is a breakdown of the exciting qualities that have allowed
MaxiClimber
to earn (and maintain) this well-deserved title while also being one of the most fun exercise workout equipment options on the market — perfect for livening up your home gym.
Easy to Move (and Store)
One of the best qualities of a great at-home workout machine is how portable it is. The possibilities are endless when you can easily move around your fun exercise equipment. Your workouts don't have to be limited to one room or even just the inside of your home. When you can move a machine, you can use it just about anywhere — from a home gym to the living room to your patio or balcony. MaxiClimber is portable, so you can enjoy the best vertical climber machine wherever you want. MaxiClimber combines this portability with the capability to fold up at the end of a workout. This makes storage a breeze. MaxiClimber can easily be tucked into a closet. This combination of portability and storage-friendly design makes MaxiClimber stand out when you compare it to other bulkier machines that are difficult or even impossible to move around.


Able to Adjust

No matter what kind of workout you are doing, you want to be able to customize it to your
fitness goals
. Fun exercise equipment is only worth having around if it works for you and helps you make progress on your exercise and wellness journey. Adjustable resistance is one feature that should definitely be on your list of qualities that make the
best vertical climber machine
. If you're able to adjust the resistance of the machine that you're using, you can add variety to your workout. This feature also makes the machine more accessible to users of any fitness level — from beginners to seasoned pros. The
MaxiClimber XL model
has 12 levels of resistance. Other vertical climbers don't provide adjustment features, and when they do, the resistance quality isn't the same. The freedom to choose your level of resistance is just one of the many reasons MaxiClimber is the best vertical climber machine.
Free Workout Library

There's nothing more frustrating than downloading an free app only to realize you need to pay for the features that make it worthwhile.. This is often the case with workout support and fitness routine libraries. You buy the machine, but then you have to pay to access coaches' advice and sample workouts. For example, some competitors require a monthly membership fee of almost $40 to be able to participate in live workouts and log your fitness achievements after you've already invested a lot of money on the machine itself.
MaxiClimber
offers a free library of workouts that you can stream wherever you want, whenever you want. The
MaxiClimber app
is also free to download. With MaxiClimber's app, you have instant access to fitness sessions led by expert coaches, you can track your progress, browse existing workout routines or customize your own and can take advantage of over 80 recipes to build the meal plan that's right for you. This
fantastic extra support
is entirely free — a value no other vertical climber can match.
The Best Cost-Benefit Analysis
When you invest a significant amount of money into a piece of fun exercise workout equipment, you want to make sure it's a worthwhile expense. Important decisions like this one can benefit from considering a cost/benefit ratio of each option on the market. It's vital to consider how much of an impact an
exercise machine
can have on your fitness goals relative to how much of a dent it will make in your wallet. When new machines hit the market claiming to be the best vertical climber machine, they like to boast all of the bells and whistles you could imagine packed into one piece of equipment. All of those fancy add-ons come at a hefty price tag, however. Some of the most expensive climber machines range between $2,000 and $6,000. . There's no shortage of vertical climbers available in the thousands of dollars range. MaxiClimber comes in at a much lower price point — $229 for the
MaxiClimber Classic
and $499 for the
MaxiClimber XL
. This might seem like a drastically different cost — but remember that less is sometimes more. The truth is that
MaxiClimber
has all of the essential features that make it the best vertical climber machine at an affordable price, without any unnecessary add-ons that drive up the cost — but don't make the workout any more effective.
MaxiClimber
doesn't hide behind fancy features like some of the other expensive competitors — and that's because it doesn't have to. When comparing different price tags, you should know exactly what you're getting. However, if you choose a generic brand option on the market, the unfortunate truth is that you will probably be compromising some of the fitness values that make for a great piece of fun exercise workout equipment.
MaxiClimber
is the best of both worlds. It's a genuinely affordable option that doesn't sacrifice an ounce of functionality or dependability. With all of the features you could want for an effective workout at a great price, MaxiClimber is the
best vertical climber machine
. It has all of the benefits you could ever need at a fraction of the cost of most other competitors.
The Easy Choice: MaxiClimber
The search for the best vertical climber available doesn't have to be a hassle or involve copious research. It's simple to see that only one option makes the most sense:
MaxiClimber
. MaxiClimber has all of the qualities
fun exercise equipment
should have without breaking the bank. With all of its amazing features,
MaxiClimber
is without a doubt the best vertical climber based on a quick cost-benefit analysis alone. Additional features such as a streamable workout library, an amazing free app, and its portability and easy-to-fold design are just icing on the cake.
Choose MaxiClimber today
to make the best vertical climber machine on the market the star of your home gym!