The All-New MaxiSport Whey Protein Isolate From MaxiClimber
Posted by ABIGAIL SIERRA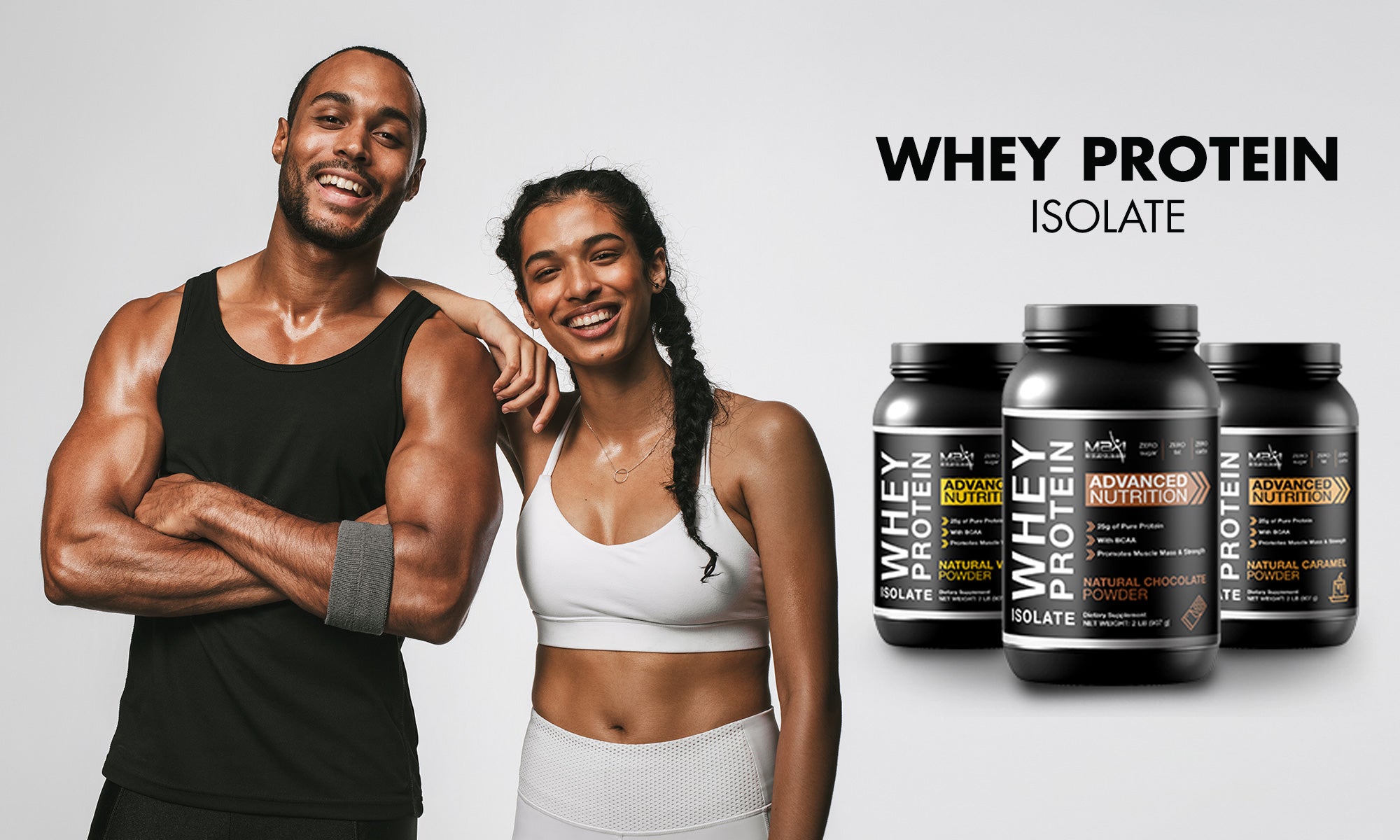 Here's everything you need to know about MaxiSport Whey Protein Isolate, the new protein powder from MaxiClimber, and how it can improve your workouts and daily life
Getting in protein after a workout doesn't have to be like it is in movies and TV shows, where you see athletes drinking
raw eggs
or eating from a plate piled high with lean meat. In reality, protein truly is a
post-workout necessity
because it helps muscles recover and rebuild. How you consume that protein doesn't have to be a hassle — no slimy eggs or mounds of chicken are required. With all-new
MaxiSport Whey
Protein Isolate from MaxiClimber, providing your body with the protein refuel it needs after a workout is as simple as mixing a powder into your favorite foods or smoothies. Taking charge of your health means more than just getting a workout in now and then, and the best compliment to a regular fitness routine is a healthy diet.
MaxiClimber
workout machines make full-body at-home workouts simple, and now
new MaxiSport Whey
Protein Isolate is here to make workout recovery just as easy.
What is MaxiSport Whey Protein Isolate?
MaxiSport Whey Protein Isolate
from MaxiClimber is a
protein powder
designed to make protein intake a breeze. Here are some of MaxiSport's most exciting information at a glance:
Key Features of MaxiSport Whey
MaxiSport
is expertly produced through multi-step purification so that essential muscle-building protein is preserved while all of the unnecessary excess carbs, fat, and cholesterol are discarded. What's left is the
perfect protein source
to add to your daily routine! Here are just a few of MaxiSport's key features:
It contains ZERO sugar, fat or carbs
It comes in three delicious flavors
It is a multi-purpose protein solution
ZERO sugar, fat or carbs
MaxiSport Whey Protein Isolate
doesn't contain any sugar, fat or carbohydrates. A lot of other protein powders, bars and other recovery products aren't as healthy as they seem because they contain large amounts of
unhealthy additives
like sugars and fats. You don't have to worry about unnecessary ingredients when you reach MaxiSport protein isolate. And if you follow a keto or low carb lifestyle,
MaxiSport
is a great way to add protein to your diet while preserving your dietary goals.
Three Delicious Flavors
MaxiSport
is available in three tasty flavors: Vanilla, Chocolate and Caramel. With this selection of delicious flavors, you're sure to be able to find a MaxiSport powder that matches your taste preferences and that you'll look forward to adding to your healthy lifestyle routine. MaxiSport's three formulations mean there's a
MaxiSport protein powder
for everyone.
A Multi-Purpose Protein Solution
MaxiSport is an excellent choice to
refuel
your muscles with protein after a
MaxiClimber workout
or other fitness activity. The benefits of MaxiSport, however, are not limited to post-workout use. If you're struggling to eat
enough protein
throughout the day, MaxiSport is a convenient solution to provide additional protein between regular meals. Anytime you want to add more protein to your diet or need a simple on-the-go protein solution,
MaxiSport
is the answer. It comes in a powder form that can easily be blended into a shake, smoothie or food of your choice.
What are the Benefits of MaxiSport Whey?
Now that you know all of the top features of all-new
MaxiSport Whey
, you might be wondering what the benefits are. There are many amazing advantages to adding
MaxiSport
to your balanced, healthy lifestyle. Here is just some of what MaxiSport can do:
Boosts fitness performance and accelerates recovery
Helps resolve post-workout soreness
Promotes the gain and regeneration of muscle mass
Aids in muscle tissue preservation and overall health at any age
Decreases cortisol levels
Controls appetite and supports fat loss for both men and women
Make MaxiSport Whey Protein Isolate Your Go-to Protein Source
Whether you're searching for a great post-workout protein powder or need an on-the-go source of protein in between a busy day of work and running errands,
MaxiSport
is the answer. MaxiSport is an expert at refueling your muscles after an
intense workout
and at supporting weight management by providing a natural, low-calorie protein source in between meals.
Reach for MaxiSport
whenever you need a delicious and healthy dose of protein in your daily life. Try
MaxiSport Whey Protein Isolate
from MaxiClimber today and make it your go-to protein source!