5 Reasons Why MaxiClimber is the Best Vertical Climber Machine
Posted by ABIGAIL SIERRA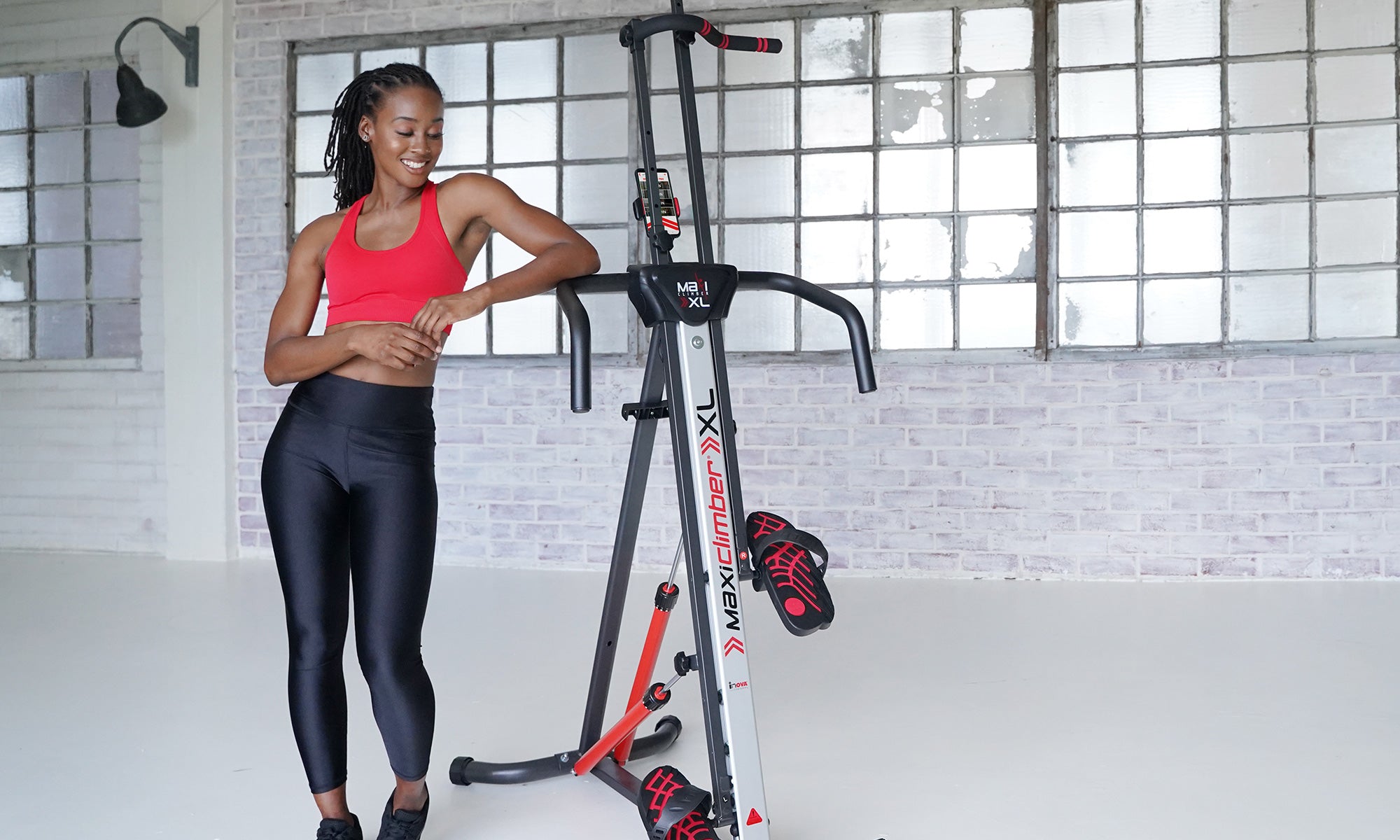 Why MaxiClimber is the Best Vertical Climber Machine
Climbing is now more than an adventurer-loving activity. Avid rock climbers have always built muscle as strong as the surfaces they were scaling. But now, thanks to technology, climbing strength training has turned into a hot fitness trend with accessibility right in your own home. The rise of the vertical climber workout has led to creating fun exercise equipment that still produces an intense workout. But of course, as trends go, there are now several machine brands claiming to be the best. But how do you make sure you're getting the best vertical climber machine on the market? You let the facts speak for themselves. Here's why
MaxiClimber
is the leading machine for climbing workouts at home.
Highly Rated and Vetted
The #1 reason you know you can trust the MaxiClimber to give you the best value and workout of your life as the best vertical climber machine is because you don't have to take our word for it. Numerous non-biased reviewers are also saying it's true. NBC News recently listed MaxiClimber as #1 on their list of best vertical climber machines. Performance manager at Future and former Division-1 basketball player, Kyle Gonzalez told NBC News that he preferred MaxiClimber because it was "very easy to use. The learning curve is smaller, and you can get a lot done in a short period." He also went on to say that he thought MaxiClimber was the "best option for a beginner or someone looking to switch things up, but not break the bank." And he's not wrong! MaxiClimber is the perfect workout for both beginners and seasoned athletes like Gonzalez. Not only is it a low-impact cardio workout that is great for newbies or people with weaker knees or joints, but it still delivers an intense workout that will yield results fast. Gonzalez isn't the only person loving MaxiClimber either. Here are just a few news outlets that rated MaxiClimber as their top choice for the best vertical climber machine.
Fitrated.com
also listed MaxiClimber as the best value out of other machines, meaning you'll get more bang for your buck when purchasing the best vertical climber machine for your mini home gym. And as a double win,
Greatist.com
listed both models of MaxiClimber as their #1 and #2 slots for best vertical climber machines. Talk about a double win and extra proof that MaxiClimber really is the king of the climbing machine.
Sleek Design & Easy to Store
One of the reasons MaxiClimber was rated so highly in all those lists above is its revolutionary and sleek design. Not only is it aesthetically pleasing and modern, but its ability to be folded up and stored is also a dream come true. Compared to other vertical climber storage, MaxiClimber ranks #1. It's the perfect piece of exercise equipment for small spaces. The best part of this feature is knowing you don't sacrifice any part of its effectiveness in giving you the intense workout you crave. Simply fold it up when you're done and store it inside a closet, under a bed or even under a couch. It really is that simple and effective, making it the best vertical climber machine overall.
Perfect For All Bodies
Another reason MaxiClimber is the ruler of the vertical climber workout is because it is really accessible to all kinds of athletes as Gonzalez pointed out. Seasoned athletes and beginners alike can benefit from the intense workouts for the ultimate cardio workout at home. Beginners don't have to be intimidated because the easy-to-use design makes learning how to do your climbing workouts at home a quick and easy process. And whether you stay on for ten minutes or an hour, you are bound to get the health benefits you're looking for. The best part is that the low-impact workout makes it accessible for those who may not be able to put as much pressure on their knees and joints (though, certainly consult a doctor before starting any kind of new workout). But climbing on your MaxiClimber will give you the strength-toning and cardio effects of climbing an actual mountain without having to slam your feet against solid rock. And with two models built for different weight classes, it is accessible for those up to 300 lbs!
Effective at Getting Results
MaxiClimber is not only a fun exercise equipment option ranking as the best vertical climber machine across the board. It is significantly effective when achieving an intense workout with measurable results in the least amount of time. Compared to traditional cardio machines like the treadmill and stationary bicycle, the MaxiClimber out-performed the other machines during 10-minute workouts. According to a study, Maxi-Climber burned 3.3 times more calories than the treadmill and 2.5 more calories than the stationary bike. But it's not just the calorie burn during the intense workout that makes MaxiClimber the best. Studies show that MaxiClimber users will burn almost double the calories in the time following their training compared to the other cardio machines. That's a significant amount of afterburn! It also is extra effective at toning, proving it's much more than simply a cardio machine. When compared to a squat, a study found MaxiClimber to be 14 percent more effective at toning muscle than doing a traditional squat for the same amount of time.
Amazing Streamable Support
Another reason MaxiClimber is rated so highly by outside reviewers is because of our added bonus of streamable support. Members of our MaxiClimber community have access to online coaches and fitness videos from experts skilled with using this fun exercise equipment. We will guide you every step of the way as you start your MaxiClimber fitness journey. Support is only a click away.
The Results Speak for Itself
When it comes to being the best vertical climber machine on the market, MaxiClimber blows the competition out of the water. No other machine ranks as high across the board. Numerous media outlets all come to the same conclusion: MaxiClimber is the best. And they all point out the same things each time:

Best value for the money
Incredible sleek design for easy storage
Easy to use for beginners and seasoned fitness lovers alike
Incredible science-backed results
Amazing access to coaching and fitness videos on your phone

So you don't have to take our word for it. The world has spoken loud enough for us. But the true test is finding what works for you.
Are you ready to experience the best home workout of your life?
MaxiClimber
is the best way to get a full-body workout in less time than other methods you've probably already tried. So what do you have to lose? Not satisfied with your results? We have a 30-day money-back guarantee. You've found the best vertical climber machine on the market. Now it's time to test it yourself.
Click here
to get started on your very own MaxiClimber today.