Setting Up A Home Gym In 5 Easy Steps
Posted by MAXICLIMBER FITNESS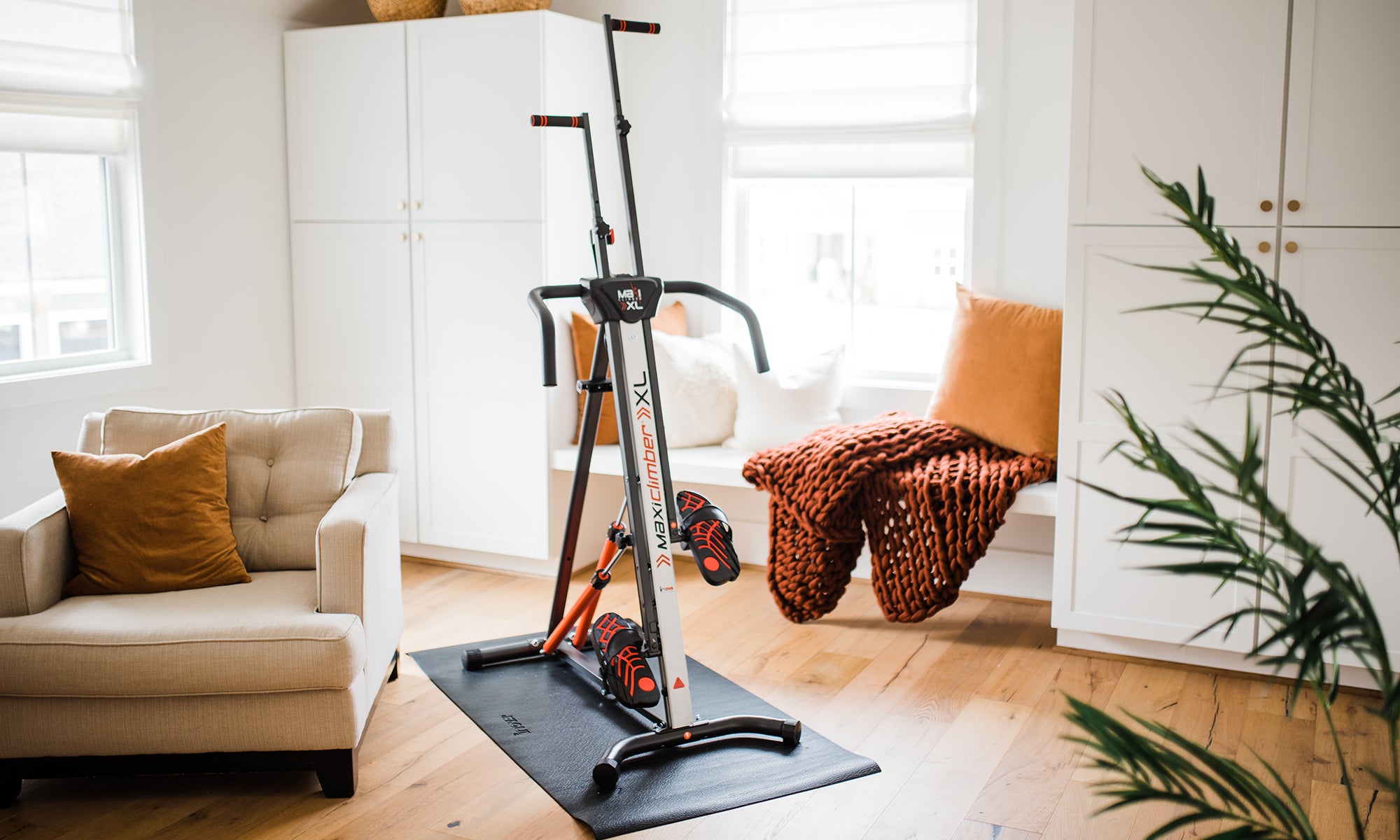 5 Steps to Setting Up A Home Gym You'll Love
They say home is where your heart is. And we say the gym is where your sweat's at. Who needs fancy gym memberships in 2021 when many of us grew used to setting up a workout routine from our living rooms. But what if working out at home didn't have to be an emergency setting or last resort? What if setting up a home gym could turn your personal space into the fitness oasis of your dreams? With scientific studies finding that home workouts do prove to be effective in achieving our health goals, setting up a home gym seems like too good of an opportunity to pass up. It may even improve your workout routine in the long run! With our tips on setting up your mini home gym, we will spill all the tea on home gym essentials and fun exercise equipment for your ultimate cardio workout at home. When you go to the gym, it should be about more than breaking a sweat. It should be a place you look forward to going so you can live your best life and achieve all your health goals.
Plan your budget
The first step to setting up a home gym is determining your budget. It is possible to create an excellent budget home gym that won't break the bank while still being effective and a fabulous place to be. Here's how to break it down:
Limit the bulk of items to your basics: This could be a workout mat, a set of weights, jump rope, resistance bands, etc. Choose things you love and not just what some magazine decides is the best home gym equipment. Do you really need a kettlebell, or do you prefer hand weights? Small choices like these can cut down on both cost and clutter.
Determine what can be purchased second-hand: Sometimes, you can get lucky at consignment shops or Facebook marketplace when looking for some of the simpler items. Not everything has to be brand new to be effective and fun exercise equipment. As long as it can be sanitized and clean, it really is a great option to keep costs low.
Decide if you're going to invest in any streaming services: If you like the group class feel, decide if it's worth it to you to subscribe to one of the best streaming workout services or be happy with free videos on YouTube and social media. Whatever gets you in the zone is the way to go, and there's no right or wrong answer.
Pick one investment item: While it's essential to keep costs down when setting up a home gym, there's something to be said about being strategic regarding investing the bulk of your budget into the best home gym equipment for you. The criteria? It has to be something you'll enjoy regularly and get the results you want. (Fortunately, MaxiClimber hits both of those for most people. It really is the best full-body fitness machine for a cardio workout at home).
Pick the right spot
Choosing the best location in your residence for setting up a home gym is also crucial in the planning stages. The location can actually make or break how effective your workout routine could be moving forward. According to some experts, the most overlooked component in picking a spot for your mini home gym is whether or not it has access to natural lighting. "Most of the time gyms are relegated to the basement, which is usually the least inviting space in anyone's house and the easiest place to forget it," said Dr. Catherine Sabiston, of the North American Society for the Psychology of Sport and Physical Activity, in an interview with BBC. "The more natural light, the brighter your workout space is, the better." So don't feel limited to your dark basement when setting up a home gym. Find a way to have it tastefully established in a sunroom, your living room, or even near your bedroom window. Just remember to have some kind of natural light incorporated into the space to help keep your fitness area motivating and inviting.
Maximize your storage
The key to setting up a home gym in any size space is understanding the best way to maximize your storage capabilities. Very few people can afford to have an entire room dedicated to their mini home gym. Try a strategically placed storage ottoman, bench or chest to keep smaller pieces of fun gym equipment easily accessible while stored out of sight to keep the clutter at bay. After all, nothing kills the fitness vibe quite like a messy space that limits your movement (and definitely distracts your focus). Exercise equipment for small spaces is super trendy but can also be misleading. Make sure you read the reviews on the bigger pieces of equipment that claim they store easily to ensure it's the truth. It's also worthwhile to limit yourself to one of these machines (so definitely invest in the ones that maximize your workout routine with a full-body fitness approach backed by science). That's why we love how MaxiClimber is not only one of the best home gym equipment pieces on the market because of its results-tested workout, but it is also super easy to store. It simply folds up and can be tucked inside a closet, discreetly in a corner or even under the bed. MaxiClimber was designed to be easy to use with maximum results, making it one of the home gym essentials you won't want to leave out of your daily workout routine.
Make it aesthetically pleasing

While efficiency and effectiveness are obviously most important, no one can deny that making a space pretty and easy on the eyes is fun too. Setting up a home gym space should be no different. Think about what you like in a workout area that can motivate you. Here are some ideas to spruce of the space visually:
Inspirational quotes: Whether it's framed as a piece of art or painted directly on the wall, consider having your favorite "don't give up" sayings insight to keep you going while doing your workout routine at home.
Inspiring images: Do you have a favorite athlete that inspires you to keep pushing through your workout routine? Or perhaps you find your zen when gazing at pictures of greenery and landscapes. Whatever you like to see, focus on that and invest in some showstopping visual pieces you can look at while sweating through your intense workout.
Color psychology: The colors you decorate your space with can sometimes make or break your motivation. According to Dr. Sally Augustin, an environmental psychologist published in Psychology Today, pairing bright colors that are not very saturated is more appealing and soothing. Using contrasting colors on the color wheel can sometimes invoke excitement. Dr. Augustin also suggested that pairing pale, unsaturated colors with bright, vibrant colors (think bright teal accents in a pale gray room) can also boost energy levels on a subconscious level. So be intentional: you throw bright splashes of color to make setting up a home gym beautiful and practical.
Elegant equipment: When you decide to invest in fun exercise equipment, it's also important to consider its design. Is your cardio machine an eyesore or something more? MaxiClimber was intentionally designed to have a sleek, modern aesthetic that's both pleasing and easy to store. But with gym equipment this beautiful, who wants to hide it away?
Have access to support
Just because you're setting up a home gym, that doesn't mean you're on this fitness journey alone. When you join the MaxiClimber community, you receive full support from our virtual coaches and access to online fitness videos to help guide you. Your workout routine is important to us, and we want you to achieve all the goals you set. Ready to join our fitness family?
Learn more about MaxiClimber today!